Instead of flying a Lear Jet we drove our 4Runner
We went to Oregon instead of Nova Scotia
Our adventure to see the Great American Eclipse of 2017 was a series of happy accidents.*  This was a once-in-a-lifetime occurrence; a total eclipse that spanned the continental United States.  We realized this was an opportunity we shouldn't pass up.
The First Happy Accident
We had reservations, made in January, to go camping with family. But this family has a child entering high school and who signed up for a sport. The demands of a new high school student playing a sport were unbeknownst to this family in January, so a juggling of the schedule was necessary. We suddenly discovered we were free for the eclipse.
I went into overdrive trying to find a place to stay. Obviously, by eclipse standards, we got a very late start. I looked on the Oregon coast first, then realized the coast could be foggy or cloudy. I changed my search to inland areas and found a reservation in La Pine, which is 72 miles from the center of the totality zone, and about 45 miles to the southern edge of the totality zone. We knew we would have to drive into the zone, but hadn't really planned on where to go.  Almost at the last minute, we decided we wanted to see the eclipse from John Day Fossil Beds National Monument. We reasoned that if we had to drive quite a distance to see the eclipse in totality, we might as well have something to do when it was over.
In addition to securing a place to stay, I also bought an Eclipse Kit on Amazon before they sold out.  I got this one: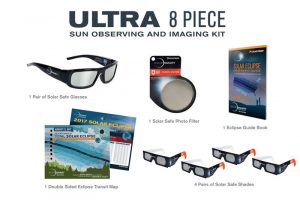 The Second Happy Accident
It's a long drive from our house to La Pine, so we broke up the trip by going to Lassen Volcanic National Park first (that's a post for another day).  By Sunday, we were getting a bit concerned because we'd been hearing about the traffic and crowds. We were fully expecting an exceedingly long drive. So on Sunday, August 20th, we drove from Lassen to La Pine. With no traffic.  Not even slowing.  We cruised right into the RV park in La Pine. Traffic was heavy for days, so our earlier-than-anticipated arrival surprised the manager.
The Third Happy Accident
We spent the evening planning and plotting our route, deliberately avoiding main highways when we could.  I prepared a picnic lunch, gathered our gear and put it in front of the door, and set the alarm for 4:00 am.  It's about 170 miles from La Pine to John Day Fossil Beds NM, so we wanted to give ourselves plenty of time to get there and/or at least get into the totality zone before 9:00 am.  I didn't sleep well; I could hear the cars on Hwy 97 and I just knew that while the traffic was light at midnight, by 4:00 am it would be bumper to bumper.  At some point I finally fell asleep because the alarm woke me.
We brewed some coffee, grabbed our lunch and headed out.  We saw a few cars, but there was no traffic.  No traffic on Hwy 97, no traffic on the side roads we took to Hwy 20E, no traffic on Powell Butte Road, no traffic on Route 126/26, none in Prineville where we stopped at McDonald's for more coffee and some food.  There was no traffic.  Where was everyone?  As we headed out of Prineville, we started seeing people parked along the road and we were tempted to just pick a spot and wait.  But something told us to get as close to John Day Fossil Beds as we could. As we got closer, we made note of good turn-outs, just in case it was a zoo when we got there and had to turn around.  We turned onto Route 19, still no traffic.
The Fourth Happy Accident
When we were about 100 yards from the entrance to the Thomas Condon Paleontology Center, we saw cars parked on the side of the road.  There were park employees directing traffic and they had already put up a sign indicating the parking lot was full.  We started to park at the first open spot on the side of the road, but Ron decided to drive up the road just a bit more.  Across the street from the Paleontology Center is the Historic Cant Ranch.  And right there, at the ranch, were several parking spots.  We took one!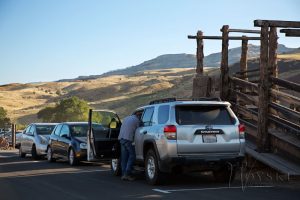 The Fifth Happy Accident
Choosing John Day Fossil Beds NM was a lucky, happy accident, stroke of genius.  We had no idea, of course, but we'll take credit any way.  The rangers at the Fossil Beds did a great job of planning for crowds.  They brought in port-a-potties; closed Cant Ranch and some other areas to free up staff to help with the eclipse crowds.  They prepared activity tables at the Paleontology Center, they made an outdoor station for passport stamps, they helped visitors park and find good viewing spots.  They handed out eclipse viewing glasses. Cant Ranch had wide open lawn areas, picnic tables and it's own port-a-potty.  Even though it was closed for indoor tours, the grounds were made available to everyone watching the eclipse.  We couldn't have picked a more comfortable and relaxed place to see the eclipse.
*There were two unhappy accidents.  This wasn't a totally charmed adventure.  First, I wanted to post this on August 22nd, but when I packed my laptop, I thought the power cord in my bag was fine. It wasn't. It doesn't fit. The new and improved power port on my new laptop is smaller. I decided the priority was downloading and backing up my images on the limited battery life I had. Grrrrr. Lesson learned.  Second, as already mentioned, I forgot my tripod.  I FORGOT MY TRIPOD! Unbelievable.
The Total Eclipse of the Sun
We had to wait about 1 1/2 hours for the eclipse to start and that time flew by fast.  I started taking test shots at 8:24 am and fiddled with how I would attach the filter to my lens.  My brilliant engineer husband reminded me that I would want an easy off/easy back on option since I wouldn't need the filter for the two minutes of totality.  In the end, I duct taped it to my lens hood.  I was all set, and even though I forgot one MAJOR piece of equipment (my tripod!) I took photos with my Canon EF 70-200 mm lens with a Canon EF 2x Extender on a Canon 5d Mk III camera.  For this purpose, it was a pretty shabby set up but it did the job.  I tried not to look around me at the folks taking photos through telescopes!
Solar Eclipse
I was still taking test shots when I noticed a cleft in the sun.  It started! I didn't have a plan for taking photos, I was absolutely winging it.  My Eclipse Kit came with 4 pairs of cardboard glasses and a better pair of plastic, sunglasses-type viewing glasses. I started with the better ones, but quickly decided the cardboard glasses with the right lens removed was best for photographing. In this series, most of the photos were taken about 10 minutes apart.
So, you might be thinking, it doesn't look like a big deal that I forgot my tripod.  Well, you would be thinking wrong.  I had to find the sun for every photo.  My lens magnification wasn't all that much and with the lens filter in place (just like the eclipse glasses), I was searching a sea of black for an orange dot.  Not so bad when there was still quite a bit of sun left, but those slivers at the end?  Surprisingly, I found them. I'll just admit it right here; I'm clever.  Give me a problem and I'll find a solution.  No tripod?  Minor problem!  I found a plaque at the right angle for nearly all of my photographs, so I sat on a chair, placed my elbows on the plaque and created a human/plaque tripod.  Problem solved!
The Quality of Light
Of course, we were expecting the light to change.  It was so gradual though and we didn't notice it until the sun was half covered by the moon.  I really notice light, so as the light dimmed, the quality of the light was very strange.  Every day, we see the rays of the sun start and end low in the sky, shadows are long and the light is directional.  The color of early and late light is warm, orange-ish.  Around midday, when the sun is at its peak, the light is bright and nearly white and shadows are minimal. During the eclipse, shadows softened with the waning light, but they didn't get longer.  The direction of the light was like midday, so the twilight quality didn't match the direction. The color of the light was near white.  It was strange, almost eerie.  The light was all wrong!
Totality
The one thing that I found most interesting is how much light the sun emits even when most of it is obscured.  I fully expected a gradual slip into totality, but it wasn't like that at all.  It was suddenly much darker.  The air was suddenly much cooler.  The light was suddenly like twilight, but still, the quality, color and direction of the remaining light was all wrong.
I ripped off my one-eyed glasses and took my lens hood off and started shooting.  But I didn't want to miss what it looked like around me either, so I marveled at the landscape before me.  I shot, I marveled, I shot, I marveled, I shot, I marveled…
When the moon slipped off the face of the sun and the brightest light I've ever witnessed started shining down on us, I was still photographing.  I closed my eyes and took about 6 more photos, then I had to put my filter-covered lens hood and my one-eyed glasses back on.  I had no idea what I might have captured. My results were surprising!  And I think this was the first time I photographed with my eyes closed!
Perhaps you've seen someone else's photos of what totality looked like while not looking at the sun.  For the people immediately around me, they couldn't capture it because their cameras compensated for the lack of light.  If I ever get to observe a total eclipse again, I will have two cameras; one set for the eclipse and one manually set for the light before the eclipse so it can record the light changes. It would be really cool to have a set of photos that record the ambient light right along with the stages of the eclipse. Next time!
Post Totality
We were so busy being awestruck that we kept hanging around and talking to our eclipse neighbors.  Some people packed up and left immediately and others took their time. The Cant Historic Ranch slowly emptied out.  I kept photographing, but I took fewer photos with longer intervals. Still, I recorded the moon slipping away and the reappearance of the total sun.
I want to say so much about the total eclipse but as I'm writing this, I realize how colossally hard it is to describe such a surreal experience. People were ooooohing and aaahhhhhing and emitting unintelligible sounds of excitement and awe and wonderment.  Some of us (raises hand) were holding our breath. Words fail to capture the extraordinary sights and emotions that overwhelmed us during this ethereal event.  This shared experience, with hundreds of people who are cosmically connected for 2 short minutes, is indescribable.   And I can't wait to do it again!
Please follow and like us: