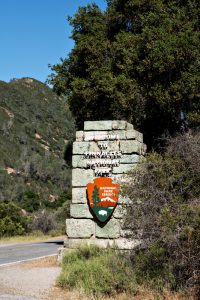 About 552 moons ago, my parents visited Pinnacles National Monument.  That was the first time I had ever heard of Pinnacles and since we (my siblings and I) were accustomed to camping and visiting state and national parks of all kinds with our parents, I was a bit miffed they didn't take us. I can't really explain why, but Pinnacles fell off my radar for about another 400 moons before I would visit the park myself.
Before I go any further, I have a confession to make; I didn't take a lot of photos on this trip.  The idea of this blog hadn't cemented yet, so I didn't view the park through my lenses.  In some ways, I'm glad.  I totally experienced Pinnacles without worrying about getting good photos or being at the right place at the right time.  On the other hand, that leaves this post rather skimpy on photos.  So here's the deal; I promise to go back and do it justice!
Pinnacles is a beautiful park in any season, but summer is HOT, so I purposely wanted to visit in the spring.  Avoiding the summer heat was paramount, but our record wet winter also meant that I was sure the wildflowers would put on quite a show.  I was half right.
Where is Pinnacles National Park?
Pinnacles is nestled in the southern section of the Gabilan Range of the Southern Coastal Ranges of California.  The east entrance and the only campground is located on Highway 146, off of Highway 25.  Never heard of them?  Me either.  Highway 25 is a well-maintained, but narrow, 2-lane road running north/south between Hollister to the north and the middle of nowhere to the south.  Right about at the middle of Highway 25, Highway 146 heads west into the park.  The west entrance is located on Highway 146 off of Highway 101.  It's another narrow, 2-lane road heading east into the park.  But…these two roads aren't connected.  You can hike from west to east and vice versa, but you cannot drive all the way through the park.  Pick your entrance wisely.  If you want to camp, choose the east entrance.  If you want to day hike/climb, you can use either entrance.
It's important to know where Pinnacles National Park is in order to plan your visit.  The Santa Lucia mountain range is west of Pinnacles, creating a rain shadow and deflecting the coastal climate, even though Pinnacles is only 40 miles inland.  The days are warm and the nights cool, and by warm, sometimes I mean HOT. And it seems as though I was meant to experience Pinnacles in the heat.  Boo.  There was a short-lived heat wave in the area that started the day after we got there and lasted a day or two after we left.  So much for proper prior planning.
Pinnacles Geology
One of the most interesting things about Pinnacles is its geology. The park is sort of divided in half; east and west.  The west side has high walls (climbers!)  and the east side has shade, water and some flat areas suitable for easy walks and bike rides.  In addition to the spectacular Pinnacles rock formations, the park is home to several talus caves (formed by fallen boulders into narrow canyons; creating passages that wend through the boulders.  In some places it is very dark and in others, there are windows through the rocks.
What I find even more fascinating is that Pinnacles is the western half of an extinct volcano.  Where's the eastern half?  About 200 miles south on the north side of the San Andreas Fault, near Lancaster, California.  The eastern half is called the Neenach Formation.  I haven't seen it, but a wise person once said, "Don't get excited.  There's a reason the eastern half of the volcano isn't a National Park." The two locations are linked by unique rock (breccia) that are found only in Pinnacles and the Neenach Formation.
The San Andreas Fault is shifty.  It is no longer in Pinnacles National Park, on the eastern side of the western half of the Neenach Volcano.  It is now about 4 miles east.  No worries though, there are three other large faults in the park that are roughly parallel to the San Andreas and are responsible for the common seismic activity in the park.  So, if you thought you felt the earth move while you were there, there's a good chance you did.
Pinnacles Campground 411
I reserved a campsite in Loop D, the only loop with electrical hookups. There is one water spigot for the loop, so you can fill with water when you get there.  There are no sewer hookups.   Fortunately for us, the water spigot was right next to our site.  Most of the sites are big and some have partial shade. Ours had partial shade, in late afternoon, so it was tremendously helpful. Reservations for Loop D are made via recreation.gov and there are descriptions of the sites, including if they have partial shade or not.  Sites with shade are listed as partial shade, sites with no shade do not indicate shade at all.  Choose your site wisely!
There is a pool, showers and a small campground store and visitor center where you can get limited groceries and supplies and official National Park gear as well as talk to some pretty awesome rangers.  There is also a shuttle that runs on the weekends and holidays; it stops at the visitor center and Bear Gulch.  Parking is limited at Bear Gulch, so make use of the shuttle on busy weekends!
Pinnacles Condor Program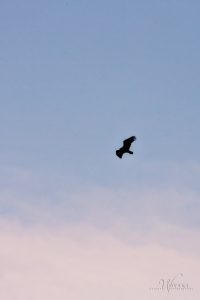 Pinnacles is the only National Park that is a release site for California Condors that were bred in captivity.  There is a viewing station near the visitor center, and with luck, you might catch them soaring above the hills.  We did not have luck!  The rocky peaks of Pinnacles provide nesting habitats and roosting areas for a variety of raptors and there are a lot of turkey vultures in the park. I don't know which bird this is, but I think it was a turkey vulture.
Wildflowers in Pinnacles
Despite the heat, the wildflowers were holding up for our visit. I wouldn't call it a super bloom as there weren't carpets of wildflowers, but there was a tremendous variety!
There are many more wildflowers native to Pinnacles, so the timing of your visit and where you wander in the park determines which flowers you'll see.  We were thrilled to see as many as we did.
Bear Gulch and Balconies Caves Hikes
On our first day in the park, we took the shuttle to the Bear Gulch For our first hike, we took the shuttle to Bear Gulch and hiked through Bear Gulch cave to Bear Gulch reservoir.  The caves are really cool, literally and figuratively, and you must have a flashlight.  We recommend the headlamp style, because you will need your hands!  And if you're claustrophobic, we also recommend you skip the caves.  For the most part, they're roomy, but there are some spots that are rather tight. By the time we finished that part of the hike, the shuttles had stopped running, so we hiked back to the campground.  This hike was lovely, followed a stream and there's a guide available at the Visitor Center.  Really wished I had my camera!
Our second hike was a pretty big one.  We drove to the Old Pinnacles Trailhead and hiked the Old Pinnacles Trail to the Balconies Cave Trail, then up Juniper Canyon Trail to the Tunnel Trail to the High Peaks Trail to the Bench Trail and back to the parking area.  The hike was easy until we got to the Juniper Canyon Trail – it's steep and it was getting hot.  The High Peaks Trail was mostly downhill, but it too was sunny and hot. The hike was pretty spectacular as the views were phenomenal. The trails wind through and around the pinnacles. There were a lot of wildflowers, too, but alas, no camera!
Our third hike was back to the Bear Gulch Cave and we took the Bear Gulch Cave bypass trail on the way back.
Taking a Break
What does one do when Pinnacles is HOT and you're wiped out from the 11 mile hike the day before?  Head to the coast!
We drove to Sand City, picked up the Monterey Bay Coastal Trail and rode about 15 miles RT to Pacific Grove Marine Gardens Park and back.  It was a refreshing and welcome break from the heat!
My Top 3 Tips
I learned a lot on our first trip to Pinnacles National Park and am eager for a return trip.  It IS small but mighty.  These are my top 3 tips:
The shuttle runs only on the weekends.  Make good use of it as parking is limited at Bear Gulch Day Use Area.
Take headlamps for the caves.  Flashlights work too, but you might want to free up your hands.
Some of the hikes are really tough! And by tough, I mean steep and not a lot of shade.  Take plenty of water and food/snacks.  You'll be glad for the refreshments while you take in the fabulous vistas!
If you've been or are going to Pinnacles, I'd love to hear from you. Enjoy!
Please follow and like us: