Part of this whole adventure is finding a place to live in Paris. Another part of this whole adventure is not knowing when or for how long! Fortunately, we found a wonderful rental agency and agent. Anne, at Paris Rental, is wonderful to work with. She happily showed us 4 apartments and was willing to show us many more. She has been patient and encouraging even knowing that our stay in Paris was dependent on things out of our control. We truly appreciate Anne's efforts to help us and find the perfect apartment. If you ever find yourself in the position of finding a long term rental in Paris, I highly recommend Anne and her company.
Location, Location, Location!
In choosing an apartment, there were a couple of things that were at the top of our list; a reasonable kitchen and a reasonable commute for Ron. While it's true that in Paris you are never far from a Metro stop, not all locations in Paris are a reasonable commute to Saint Cloud. Saint Cloud is where Ron will be working and it is a lovely suburb of Paris, but its location makes getting there a bit more complicated. It is right on the Seine, but the river is what poses the problem as the trains and trams run parallel to the river there and the Metro doesn't cross it. So, a reasonable commute to the T2 (tramway 2) is necessary.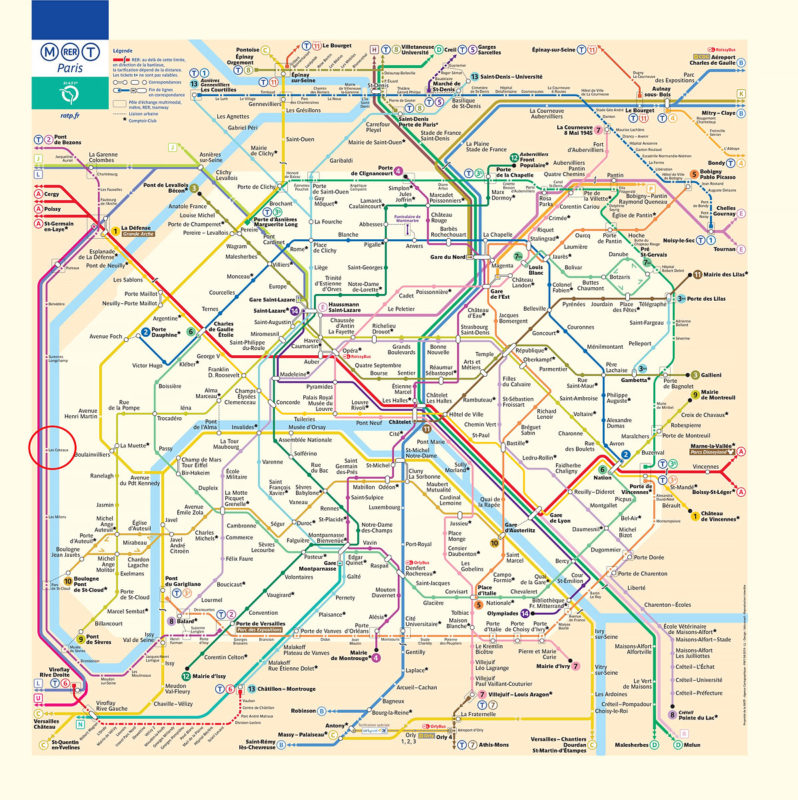 In 2011, our apartment was in the 15th arrondissement, and the commute was pretty nice. We loved that neighborhood and wouldn't mind living there again…or trying something new!
Four Apartments, Four Neighborhoods, Four "Feels"
We visted the first two apartments on my first day there. We took advantage of a second wind upon my arrival and met with Anne on Friday afternoon. She showed us these two apartments:
This apartment had a wonderful modern artist's loft feel. The high ceilings and tall windows gave it a very open feel, and it's on 3 levels, starting on the 3rd floor of a building with no elevator. The first level is the living room, dining room, and kitchen. The next level is the master bedroom, bath and office loft and the third level is the second bedroom and bath. Lots of stairs! We don't mind the stairs, it's a good work out.
This apartment is in an older building on a very quiet cul de sac, a bit of a rarity in Paris. There's an elevator making the stairs a choice rather than a requirement! The kitchen in this one is a bit smaller but it was perfectly fine for us. Although the street is very quiet, the area is very lively, not far from the Eiffel Tower and Rue Cler! I'm not sure this one is still available though.
Both of the above apartments are in the 7th arrondissement, but with different neighborhood feels. We liked them both!
We made arrangments to visit two more apartments on the following Monday. I was excited to have Clarice look at a couple of apartments with us!
This apartment is in the 8th Arrondissement, in a very busy and lively section but the street was relatively quiet. The building also has two courtyards, and the apartment was QUIET! This apartment is in a beautiful older building with classic Parisian architecture. It's beautiful! It's on the other side of the Seine and close to the Champs-Élysées, the Tuileries and the Grand Magasins area of Paris. It would be really fun to live in this neighborhood!
This apartment is in the 15th Arrondissement, on a very lively street but with two sets of windows on the street side, so very quiet! I have to admit, I think the wallpaper in this one is awesome! This apartment is a good commute for Ron and it's in a relatively familiar area for us.
Our favorites are the first apartment we saw, overlooking the park and the last apartment we saw – with the awesome wallpaper! All of them are lovely and I wouldn't mind calling any of them home for a year.
Please follow and like us: